Sales Support,
Phone: (86)0596-2161506
,
Email: DF@e-sun.cn
┇ Please contact us for details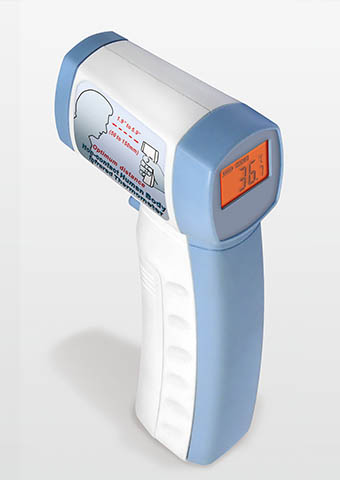 Model:
EM525
BODY THERMOMETER Features
HUMAN BODY
Designed for forehead temperature evaluation. To measure a temperature, point the thermometer at the forehead, press the trigger to scan and release thetrigger to hold the reading.
NON-CONTACT
Aim the thermometer at the center of the forehead to be measured. Measurement distance should be 1.9"~5.9" (5~15cm).
IR THERMOMETER
It is ideal for use at public places such as harbor entrances, airports, depots, schools, hotels, office buildings, and etc.



Non-contact and quick measurement.


Data-Hold function, low battery indication


Temp. "Low" or "Hi" indication


Temperature Range: 32°C to 42.5°C


Specifications
Accessories
Sales Support,
Phone: (86)0596-2161506
,
Email: DF@e-sun.cn
┇ Please contact us for details
CE Marking

CE marking, CE certification, CE approval, European directive and standards